Cleansing Nose Strip with Glycolic Acid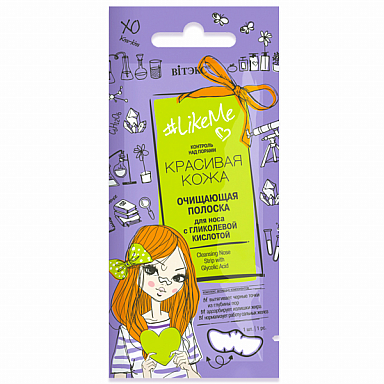 Cleansing Nose Strip with Glycolic Acid is specially designed to remove blackheads and deeply cleanse pores.
Glycolic acid "dissolves" blackheads and helps to quickly and easily pull impurities out of the pores. Special components absorb excess sebaceous secretions and normalize the sebaceous glands. In just 15 minutes, the skin is transformed: the pores become almost invisible, and the skin remains clean and matte for a long time.
Directions:
1. Thoroughly cleanse the skin. Moisten the nose area with warm water. Apply strip only to moist, clean skin.
2. Stick the strip with the colored shiny side after removing the clear plastic film from it. Smooth the strip so that it fits snugly against the skin of the nose.
3. Leave on the skin until completely dry (about 10-15 minutes).
4. Carefully remove the strip. All contamination will remain on it.
ATTENTION!
After the protective film has been removed, immediately apply the strip to your nose. If the nasal strip is difficult to remove, re-wet it with water. Do not apply the strip to dry skin. Do not apply strip to damaged or irritated skin. In very rare cases of discomfort or dermatological reactions, the strips should be discontinued.
Brend: Vitex
Volume: 1 unit
Barcode: 4810153036339
Composition: Aqua (Water), Polyvinyl Alcohol, Glycerin, Propylene Glycol, PVP, Dipotassium Glycyrrhizate, Glycolic Acid, CI 19140, CI 42090
Buy