Calming AROMA SPRAY for sound sleep FRENCH LAVENDER MAGIC IRIS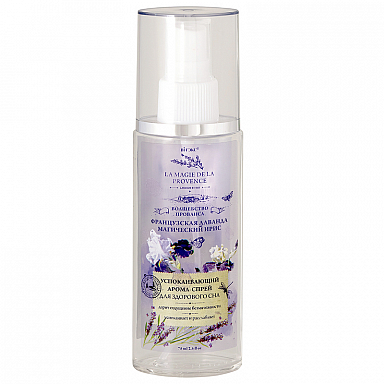 - Gives a feeling of serenity
- Soothes and relaxes
Spray with a soothing aroma-composition helps to forget about fatigue and emotional tension, relax and settle down into a sleep. The soothing aroma of French lavender and magic iris, iridescent floral and herbal hints of Mediterranean Provence, will wrap you in tranquility and serenity like a soft shawl. Essential oils of lavender and lemon balm, with their healing power, will plunge you in an atmosphere of deep slumber.
Lavender is a scent of calm, peace and purity, relieves anxiety and trouble, gives energy relaxation, creates a serene atmosphere of bliss and happiness, normalizes sleep.
Iris gives a feeling of harmony and comfort, cloaks in delicacy and tranquility, and eliminates emotional stress.
How to use it: have a small amount sprayed on the body, around the room, and on the bed linen.

Brend: Vitex
Volume: 75 ml
Barcode: 4810153025487
Composition: Alcohol, Aqua (Water), Propylene Glycol, Parfum (Fragrance), PEG-40 Hydrogenated Castor Oil, Trideceth-9, Lavandula Officinalis (Lavender) Oil, Melissa Officinalis (Balm Mint) Leaf Oil, Limonene, Geraniol, Linalool, Citronellol

Buy