Peptide MASKS-PATCHES for the area around eyes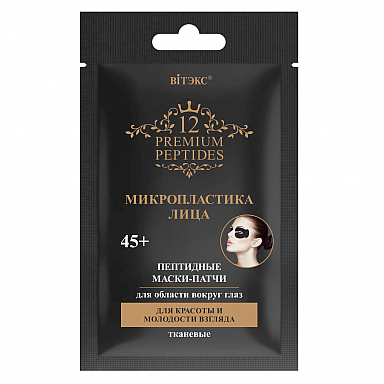 • Eliminates signs of fatigue and stress
• Moisturizes and strengthens the skin around eyes
• Relieves puffiness and eliminates dark circles
• Gives the look openness and radiance
Patches developed by professional cosmetologists contain a high concentration of moisturizing, firming, regenerating and firming ingredients for a quick and pronounced effect of rejuvenating the skin around the eyes. In just 15 minutes, the active components penetrate into the deeper layers of the skin, targeting wrinkles, smoothing them, restoring the water and mineral balance of the skin, enhancing the production of "youth collagen", eliminating signs of fatigue and stress, strengthening the skin around the eyes, relieving puffiness and eliminating dark circles.
The look becomes more lively, young and open, its radiance and expressiveness are enhanced.
The peptide complex activates the production of natural collagen and elastin, strengthens cell membranes, slows down the aging process of the skin, smoothes expression lines and deep wrinkles.
Collagen - a real restorer of the skin - strengthens the intercellular connections, restores skin elasticity and firmness, and prevents the formation of wrinkles.
White mulberry extract perfectly nourishes and moisturizes the skin, normalizes metabolic processes in the deep layers of the epidermis, and helps brighten dark circles.
Wheat proteins increase skin elasticity and turgor, smooth out the microrelief, fight skin dehydration and prevent it.
Vitamin A contributes to the activation of blood circulation, smoothing the skin topography, increases resistance to negative environmental influences (low temperatures, wind, sun).
Niacinamide has a pronounced anti-aging, tightening, firming effect on the skin, improves its elasticity and tone, helps reduce trans-epidermal moisture loss.
Bamboo charcoal - a black diamond - draws impurities and toxins from the skin, has strong antioxidant properties.
Papain gently cleanses and smoothes the skin, helps active substances penetrate deeper into the skin and is better absorbed.
Brend: Vitex
Volume: 1 pair
Barcode: 4810153027979
Composition: Aqua (Water), Butylene Glycol, Propylene Glycol, Pentylene Glycol, Tocopherol, Trehalose, Collagen Amino Acids, Dextran, Avena Sativa (Oat) Peptide, Honey Extract, Morus Alba (White Mulberry) Leaf Extract, Triticum Vulgare (Wheat) Germ Protein, Niacinamide, Bamboo Charcoal, Papain, Sodium Hyaluronate, Phenoxyethanol, Methylparaben, Iodopropynyl Butylcarbamat
Buy