Cream conditioner for body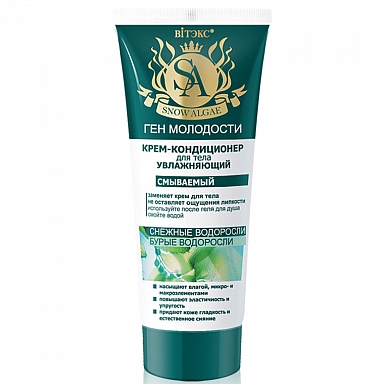 moisturizing
water rinsable
It may replace a body cream
leaves no sticky feeling
use after shower gel
rinse with water

SNOW ALGAE
BROWN ALGAE


saturate with moisture, micro and macro elements
increase the elasticity and firmness
smoothes the skin for a natural glow

This cream conditioner is a rapid way to moisturize the skin, while you are under the shower. With a gentle texture, effectively restores the water-lipid balance of the skin. Thanks to the innovative development, a conditioning cream formula is activated by water and is instantly absorbed, leaving the skin soft and with a wonderful natural glow.

This cream conditioner is based on snow and brown sea algae.

Snow algae activate the "youth gene" due to their ability to recover and renew in extreme conditions.

In combination with brown sea algae, they enable moisture to be retained on a deep cellular level, nourish and enrich the skin with micro and macro elements, intensify the recovery process, and improve skin tone, giving it smoothness, elasticity and firmness.
This cream conditioner, when used regularly, gives your skin unmatched softness, absolute comfort and well-groomed look.

You no longer need to wait until the cream is absorbed. Thanks to its unique formula the cream conditioner leaves no feeling of stickiness.

HOW TO USE:
1. Take a shower using a shower gel.
2. Apply a thin layer of rinsable cream conditioner to a clean, damp skin, leave on for a few seconds.
3. Rinse with water.

Brend: Vitex
Volume: 200 ml
Buy