Algo-Marine shower gel For intimate hygiene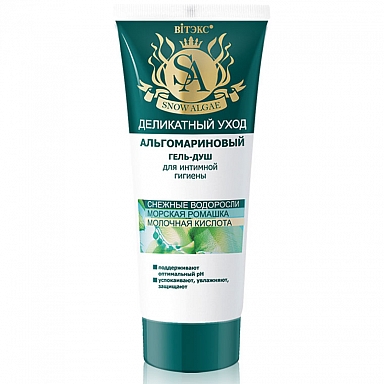 SNOW ALGAE
SEA CHAMOMILE
LACTIC ACID


maintain an optimal pH
soothe, moisturize, and protect
A delicate shower gel for intimate hygiene is specially designed for the care of intimate parts of the body. Due to carefully chosen active ingredients:
snow algae extract,
sea chamomile and
lactic acid —
the gel maintains the normal state of micro flora, moisturizes, smoothes and soothes, and protects the natural bactericidal flora. Its balanced formulation provides effective and very gentle cleansing and allows you to feel comfortable and confident throughout the day.
Regular use of shower gel provides an effective and sensitive care needed for the sensitive skin of intimate body parts.
HOW TO USE: apply a small amount of shower gel to the private parts, and then rinse with water.
Brend: Vitex
Volume: 200 ml
Buy