Golden Crystal Eye Patches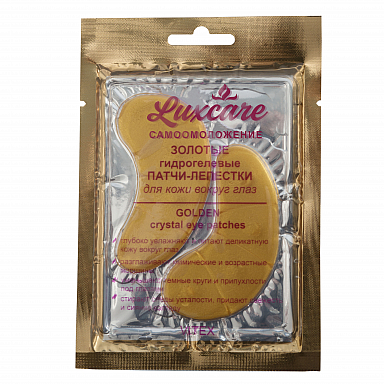 Fresh, radiant, fascinating look! Eyes saying better than a thousand words!
Golden crystal eye patches are an indispensable SOS-remedy, which really perform wonders. Highly active natural ingredients in just 20 min eliminate traces of stress, fatigue and lack of sleep, deeply nourish and moisturize delicate skin, perfectly remove puffiness and swelling, lighten dark circles, leveling skin tone. Collagen synthesis is activated, the skin matrix is ​​restored, mimic wrinkles of the inner corner of the eyelid and "crow's feet" are noticeably smoothed, and the look is instantly transformed. A special elastic and delicate mesh is formed on the skin, instantly tightening the skin, giving an extraordinary firmness and smoothness, which results in an impressive long-term lifting effect.
DIRECTIONS: wash your face and skin around eyes with warm water, apply the patches below the eyes and gently press for a more snug fit. Leave on for 15-20 min, then take off. The best time to use is at bedtime or during rest.
Brend: Vitex
Volume: 1 pair in sachet
Barcode: 4810153027498
Composition: Aqua, Glycerin, Xanthan Gum, Chondrus Crispus (Irish Moss) Powder, Glucomannan, Algin, Potassium Chloride, Citric Acid, Potassium Citrate, Phenoxyethanol, Diazolidinyl Urea, Iodopropynyl Butylcarbamate, CI 77480 (Gold), Parfum
Buy