Matting Face Care 3-in-1 with Kiwi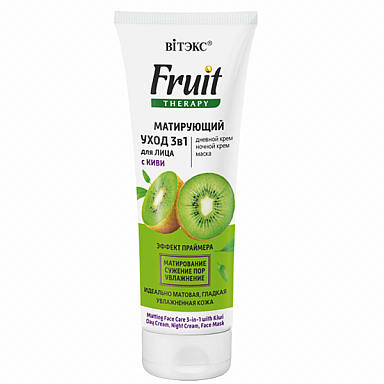 3in1 CARE day cream
For face night cream
with Kiwi mask
PRIMER EFFECT
MATTING

NARROWING OF PORES

MOISTURIZING
IDEALLY MATTE, SMOOTH, MOISTURIZED SKIN
3in1 matting care is saturated with special natural ingredients with proven effectiveness, which provide the skin with deep hydration, complexion, narrowing of pores, eliminating of oily sheen and long-lasting matting.
Kiwi juice made from selected ripe fruits saturates cells with vitamins and antioxidants, helps to quickly get rid of traces of fatigue and stress, gives freshness and brightness.
Excellent result: perfectly even, smooth, velvety skin that retains its freshness and matte for a long time.
Suitable as a base for makeup.
Directions:
As a day/night cream - apply in the morning and / or evening on cleansed skin.
As a mask - apply in a dense layer for 10 minutes, remove excess with a tissue. Use 1-2 times a week.
Buy