CREAM-DEPILATOR 5 in 1 ACTIVE for feet and hands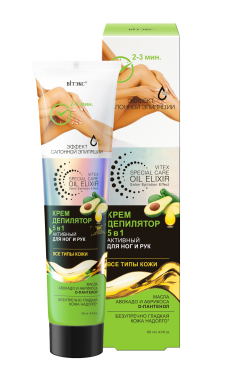 for all skin types
avocado and apricot oils;
D-panthenol.
1. Active formula for quick result
2. Complete removal of unwanted hair
3. Long lasting smooth skin effect *
4. Silky tenderness and softness
5. Intensive moisturizing and softening
Cream-depilator facilitates quickly and effectively removing even thick, stiff and short hair. Valuable avocado and apricot oils carefully care for the skin during the procedure: effectively nourish, soften and moisturize. D-panthenol restores damaged areas. Active components begin to act immediately after applying the cream, allowing you to reduce the depilation time. In 2-3 minutes, your skin will become unusually smooth, soft, silky.

Result: smooth, soft, velvety skin for a long time! *

Directions for use of creams - depilators 5 in 1:
The necessary amount of cream should be carefully applied by the applicator with equal layer (1-2 mm) onto the skin in order to completely cover the removing hair. Leave the cream on the skin for 2-3 minutes (for cream-depilator 5 in 1 ACTIVE and Cream-depilator 5 in 1 DELICATE) or for 5-7 minutes (for cream-depilator 5 in 1 ULTRASOFT). Check the applicator for the result on a small area of ​​the skin. If the hair is easily removed, very carefully remove them with the applicator together with the cream. If the desired effect is not achieved, leave the cream for a few more minutes (the total exposure time should not exceed 5 minutes for Cream-depilator 5 in 1 ACTIVE and Cream-depilator 5 in 1 DELICATE and 10 minutes for Cream-depilator 5 in 1 ULTRA-LIGHT) thoroughly rinse the remaining cream with warm water. Apply Spray after depilation of this line to restore the natural pH-balance of the skin.
* With regular application of the spray after depilation of this line.
Precautionary measures:
24 hours before depilation, test for skin sensitivity: apply the remedy on a small area of ​​the skin from which the hair should be removed, leave it for 3-5 minutes, then rinse with warm water. In case of itching, tingling, redness or other unpleasant sensations, immediately remove the cream and thoroughly wash the skin with water.
Do not apply the cream onto mucous membranes, onto damaged, irritated skin, onto scars and moles, do not use in the area around eyes. The cream is not intended for use on the face, breast, or groin.
Use cream with caution for dry skin and any hormonal diseases that can affect the speed of skin regeneration.
It is not recommended to use a depilation cream while pregnancy.
The cream can't be used after staying in the sun, and immediately after taking a hot bath. Within 24 hours after depilation, avoid sunbathing, do not apply antiperspirants and alcohol-containing products to the depilation area.
Brend: Vitex
Volume: 120 ml
Barcode: 4810153026415
Composition: Aqua (Water), Potassium Thioglycolate, Cetearyl Alcohol, Ceteareth-20, Paraffinum Liquidum (Mineral Oil), Propylene Glycol, Urea, Potassium Hydroxide, Ceteareth-25, Tetrasodium Etidronate, Calcium Hydroxide, PPG-15 Stearyl Ether, Persea Gratissima (Avocado) Oil, Prunus Armeniaca (Apricot) Kernel Oil, Parfum (Fragrance), Disodium EDTA, Panthenol
Buy