HAPPY TIME alginate face mask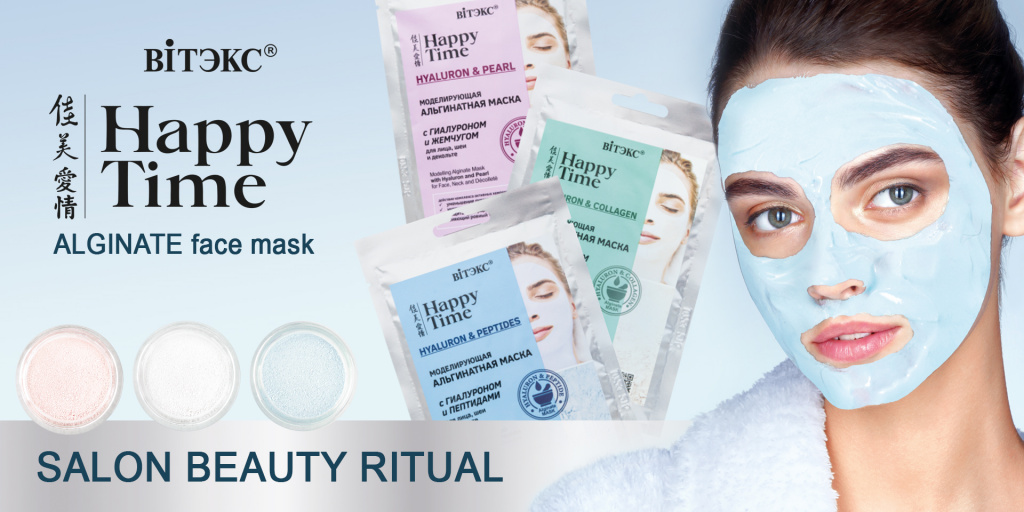 The new line of alginate masks from VITEX is a skillful combination of excellent efficiency, as after a professional procedure, and ease of use.
What is special about alginate masks?
Alginate masks are based on a special substance - alginic acid. This is a unique biocomponent that is not found in any land plant, but is extracted exclusively from seaweed - red, brown and some green. Alginate has an amazing property to quickly bind water molecules and plasticize (each part of alginic acid adsorbs up to 300 parts by weight of water).
Thanks to this property, when water is added, the dry powder of the mask instantly turns into an elastic gel - a natural cocktail of proteins, minerals, amino acids and vitamins.
When frozen, the mask forms a dense coating that does not allow water and air to pass through, due to which it literally "pushes" the active substances into the deep layers of the skin and "forces" them to act especially effectively.
How is alginic acid good for the skin?
Alginate (alginic acid) intensively nourishes and moisturizes the skin, has a pronounced anti-aging effect, provides a lifting effect, eliminates irritation and flaking, helps to narrow pores and eliminate imperfections, and improves complexion.
Can alginate masks be used alone at home or are they exclusively for salon care?
Alginate masks from VITEX are very simple and convenient to use, so they can be used at home, and the result will be comparable to a salon procedure.
What components, besides alginate, ensure the unsurpassed effectiveness of VITEX masks?
One of the main active ingredients of all VITEX alginate masks is low molecular weight HYALURONIC ACID.
With age, the processes of formation of its own hyaluronic acid deteriorate, so the skin needs external support. Hyaluronic acid, which is used in the line, has a unique ability to penetrate deep into the skin without causing irritation, being absorbed as fully as possible and having an exceptional beneficial effect on cells. The skin receives full-fledged long-term hydration, pronounced smoothing of wrinkles and begins to radiate a soft natural radiance.
The formula of each mask contains a high concentration of potent ingredients, the effectiveness of which has been proven by numerous scientific studies - COLLAGEN, PEPTIDES, PEARL.
How to apply alginate masks for maximum results?
Experts of the scientific center of the company "VITEX" advise to use alginate masks regularly, 1-2 times a week, observing the following recommendations:
· Cleanse the skin thoroughly.
· If you are doing this for the first time, use warm water to prepare the mask, so it will harden more slowly. In the future, it is recommended to use cool water.
· It is recommended to apply the cream on the eyebrows, hairline and skin around the eyes beforehand to make it easier to remove the mask from these areas.
· Mix the contents of the bag with water (50-60 ml) until the consistency of thick sour cream, so that there are no lumps.
Apply the resulting mixture in a thick layer of 3-5 mm on the face, neck and décolleté, avoiding the eye area. Pay special attention to the edges so that the mask layer is not too thin. The mixture must be applied quickly so that the mask does not have time to harden.
· After 10-15 minutes, carefully remove the hardened mask from bottom to top (the edges can be pre-moistened with water).
· Remove residues with water or tonic.
2-3 minutes before applying the mask, you can apply a serum or other product suitable for your skin type - the alginate will enhance the effect of the active ingredients several times.
Important! Any product used under an alginate mask must be completely absorbed.